9/6/17-SCU Despite Sitting Out Pre-Season, Le'Veon Bell Is Ready For Sunday
By: Joe Kuzma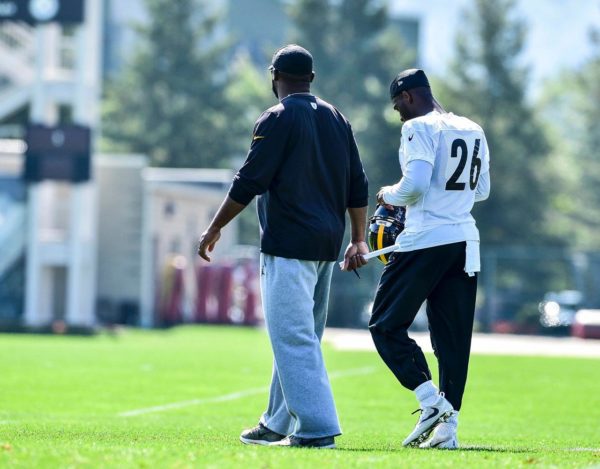 Le'Veon Bell officially signed his franchise tag on Monday, ending months of speculation surrounding a holdout over a new contract with the Pittsburgh Steelers.
The Pro Bowl running back entertained questions with the media for the first time following Monday's practice and was eager to address everything from the ultimate goal of this year's team (winning the Super Bowl) to being in "football shape".
Addressing several questions about his physical conditioning during the offseason, it doesn't sound as if Bell is worried about being ready to go for Week 1:
That is everyone's concern but I think the biggest thing for me is not me being concerned about it. I feel like I did a lot of training. I feel like when I went to practice today, they gave me my normal reps like I do like I've been doing in practice, last year, and the year before that all of the years I've been here.

I've been doing a lot of training and running but today it was still a little different. I felt a little rangy at times and I think it's just me getting back to use of the pace and the speed of not really planning my cuts. It's more of reacting now. That's the only difference.

I felt good so obviously, Wednesday when we put on shoulder pads it might be a little different so that might be a little adjustment I'd have to make. But obviously, I am excited about this year and I am ready to move forward.
Le'Veon is also putting in the extra classroom work to be prepared to play Cleveland:
I do just because that is what I do. I always want to feel sharp and I always want to be prepared for whatever it is so I am always going to be in the classroom taking extra time with my running backs coach. Even when I wasn't technically signed yet I was still working on the plays and keeping my memory fresh and that is something I am always prepared for.
The running back is singularly focused on the 2017 season. He realizes that football is a business and a new deal wasn't struck outside of his franchise tender but isn't letting that get in the way of a future agreement happening next season. While he was mum on saying what the dollar figure he's seeking is or the possibility of returning to Pittsburgh in 2018, he wasn't shy in explaining why he sat out training camp and the preseason:
Football is more than just a sport. Obviously, there is business behind it so there's no hard feelings. I came in here, everybody is happy and I am ready to get back to the season and win the Super Bowl. I'm more worried about this year and I will worry about next year, next year.

I wanted to make sure I will be prepared fresh for the season, go out there and jeopardize myself and get hurt in camp. Obviously, I understand I am under a one-year deal so I have to go out there and prepare and go out there and play football. I did not want to get hurt in camp. My rookie year I remember getting hurt in camp and things like that so I did not want to deal with it. I want to go out here and get ready for game one, games that count, and go out there and get ready to win a Super Bowl.
Bell is a big component to the Steelers offense. The Pro Bowl player is excited about Martavis Bryant returning and the expectations of being a championship caliber team. He wants to contribute in any way possible and thinks that this year's team can raise the bar set by last year's team that fell one game short of the Super Bowl:
I want as many carries as I need to get to win games. So the biggest thing for me is I do not care if I have nine carries. If I come out the game and we win that's all that matter to me. If I have 39 carries and we win that's all that matters to me. Like I said, I have to be prepared for 40 carries or be prepared for 10. Whatever it is they may use me as I have to prepare for everything and I think I did my best in the offseason to prepare for that.

Obviously, Martavis [Bryant] coming back is huge. We're ready. I think we have to get it going. Last year we were close. This year we have to obviously get back to that stage and then even more and the biggest thing for us is Super Bowl and that's our goal. We have guys on the outside that can make unbelievable plays. Our offensive line is great and will continue to get better.

Obviously, you have one of the best quarterbacks in the world so I think the offense, the sky is the limit for us.
Despite the amount of Internet speculation and rumor-mongering, it sounds like Le'Veon is ready to put any offseason distractions behind him and focus on the coming task of assembling a 2017 season worthy of bringing home a seventh Vince Lombardi trophy.
Despite sitting out the preseason, Le'Veon Bell is ready for Sunday appeared first on Steel City Underground.