1/4/18-SCU 6 Steelers Who Made A Difference In 2017
By: Joe Kuzma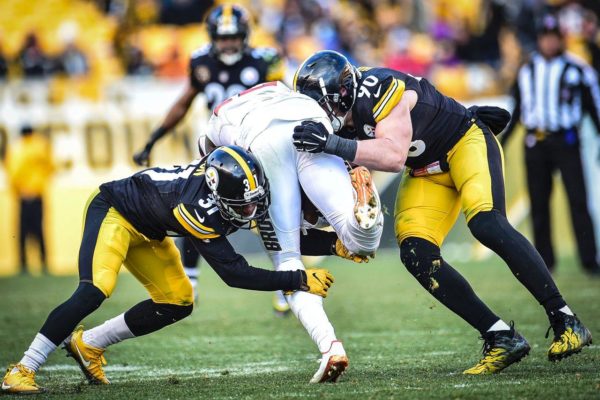 As the Pittsburgh Steelers entered the 2017 season, there were a number of questions which didn't have answers. Which players would be the best additions and potentially get the team over the hump toward their goal of a 7th Super Bowl title?
With the 2017 season now in the rearview mirror, we can look back and see which Steelers made that big of a difference between the 2016 season and the 2017 season. I came up with six whom I felt made the most impact.
Let's have a look.
Before the NFL Draft, everyone was still contemplating on whether or not former second-round pick Senquez Golson could stay healthy and become the contributor he was expected to be when selected in 2017. However, it wasn't Golson, rather, his college teammate Mike Hilton, who made headlines during the offseason. Hilton became a "camp darling", a player who shines when teams aren't playing with pads, and while he looked sharp, the undersized corner wasn't expected to do much once the regular season kicked off.
Unfortunately, Golson once again couldn't stay on the field. When health problems once again limited his snaps, Hilton took over and never looked back. The latter made the 53-man roster and with an injury to rookie cornerback Cameron Sutton, he would immediately get time to play in the slot.
Hilton would finish the season with 2 interceptions and 4 sacks: 3 of which he had in one game against the Houston Texans. The performance earned him AFC Defensive Player of the Week honors for Week 16.
Just thinking of that, compared with where the Steelers were at the same position a year earlier, makes Hilton a major upgrade to the Steelers defense.
When speaking of upgrades and training camp, was there ever more concern about the Steelers secondary than when Ross Cockrell and Coty Sensabaugh were "two dogs fighting over one bone?"
The Steelers were seeking secondary help and showed interest in free agents such as Dre Kirkpatrick, Davon House, and Logan Ryan before settling on their current situation when those names came off of the market.
Then the Cleveland Browns gifted the free agent market, and Pittsburgh, with the release of CB Joe Haden. A former Pro Bowl caliber player, Haden had seen better days as the Browns continued their downward spiral of mediocrity. The team released veteran players left and right, and Haden became a camp casualty, much to the delight of the Steelers, who quickly signed him to a long-term deal.
Such as the impact of Joe Haden, that he started the season on less than a full week of practice and helped the Steelers defense lockdown an entire side of the field. With his name rarely called, he went unnoticed until his injury following the bye week. With a platoon of other corners, such as Sensabaugh, attempting to fill Haden's shoes, the secondary was getting beat for big passing plays unlike when Joe was in the lineup.
With Haden back, there's a noticeable difference once again in how the Steelers defense plays. He may be the biggest free agent signing the team has had in years and if he continues trending upward, perhaps one of the biggest ever.
Over the last few seasons, I've heard casual fans make comments such as "What if the Steelers had drafted J.J. Watt?"
J.J., of course, is the Houston Texans star defensive end who was named NFL Defensive Player of the Year, not once, not twice, but a whopping three times. If only Pittsburgh had a player like THAT!
Enter J.J.'s younger brother T.J. Watt, the Steelers first-round draft pick, who drew ire from fans who felt the younger brother was being drafted off of name recognition and family pedigree. T.J. started playing college ball as a tight end and barely has a resume as an edge rusher. This pick could be a bust!
Fast forward to today. Watt's rookie season was so strong and unexpected, that T.J. Watt made James Harrison so obsolete that he had to beg to be released! Watt finished the regular season with 7 sacks, 8 passes defensed, an interception and a forced fumble.
He is such a game changer, that looking back on the draft, it's a wonder he fell to Pittsburgh's 30th overall selection, had anyone known just how good he would be.
And one more player who should've never fell in the draft landed in the Steelers lap in the second round when JuJu Smith-Schuster's name was called by the team.
Fans again were irritated: "Why do we need another wide receiver?"
They weren't wrong, necessarily, as the team boasted a roster full of talent including last year's starters Antonio Brown, Eli Rogers and Sammie Coates, part-time starter Cobi Hamilton, 2016 seventh round pick Demarcus Ayers, free agent acquisition Justin Hunter, and the returning (from suspension) Martavis Bryant.
So why on Earth did Pittsburgh draft another receiver? Coates had been up and down, but surely he could bounce back? How is there room if Bryant's back? Is he in trouble again that they need an insurance policy?
As evidenced by a thin receiver corps in 2016, depth is never a bad thing. A depth of talent is an even better problem to have, as JuJu made obvious with his stellar rookie season. He finishes the regular season second in receiving yards on the team (917) and receiving touchdowns (7). For everything Bryant was to be, Smith-Schuster actually was: a true number two next to Brown who would put up points. JuJu is also a deep threat and a special teams weapon, as seen when he returned a kick for a touchdown against Cleveland in Week 17.
Like T.J. Watt, would you want to go back and change this pick? Do you think other teams who drafted receivers ahead of Smith-Schuster might have buyers remorse as well?
The final two choices for this feature might not seem as obvious since they were already on the team. However, each made 2017 their season for different reasons.
There were a number of people who criticized the Steelers for not keeping LB Lawrence Timmons and felt Vince Williams couldn't fill his role on the defense as a full-time starter.
Williams then went out and did something Timmons never did: have an eight-sack season. He more than lived up to the loss of the veteran linebacker and in some instances, actually surpassed not only expectations but also his predecessor.
On the other hand, everyone already knew what Cam Heyward could bring to the Steelers, but his inclusion here is mainly because we had all forgotten what he's capable of doing on the field.
After missing nine games due to injury in 2016, Heyward returned to play all but one game this season (benched to rest in Week 17) while leading the Steelers defense with a dozen sacks: the first time any defender has had a double-digit sack season since 2010. He was also the first Steelers defensive lineman to lead the team in sacks since Keith Willis did so in 1986.
Heyward also earned two AFC Defensive Player of the Week awards this season for his performances.
Cam's a clear choice as a difference maker this season.
6 Steelers who made a difference in 2017 appeared first on Steel City Underground.